New from DIY Homefit! Flat Panel Slab-Front Doors
At DIY Homefit we are always ahead of the times!   That's why our look is always fresh and contemporary and will transform your home.  We are therefore delighted to announce our on-trend brand new range of products – Flat Panel Slab-Front doors.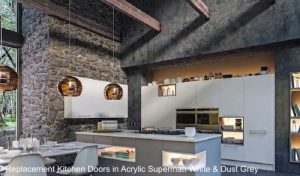 In case you're wondering, a slab door is a solid, flat door that has no frame or panel.   As you can see from the image on the right (showing an Acrylic Supermatt white and dust grey combination) this means that it gives the clean, minimalist lines of an ultra-modern kitchen, which we know is the look that appeals to many of our discerning customers.   
If you are considering kitchen cupboard replacement this autumn, so that you can enjoy a brand new kitchen this Christmas then why not have a browse through our Flat Panel Slab-Front door range now?   It is available in 23 different finishes, as follows:  
Acrylic Ultragloss

Black

Cashmere

Copperleaf

Cream

Japanese Pear

Light Grey

Limestone

Mussel

Noce Marino

White

Driftwood Light Grey

Evora Stone Graphite

Gladstone Tobacco Oak

Halifax Natural Oak

Ultragloss

Metallic Anthracite

Metallic Blue

Metallic Champagne

Supermatt

Cashmere

Dust Grey

Light Grey

White

Ultramatt

Metallic Basalt

Metallic Cashmere
To get an idea how beautiful these DIY Homefit products could look in your home see the images below or have a browse through our kitchen pictures online here.
Driftwood Light Grey & Supermatt

Light Grey

Acrylic Ultragloss in Metallic Blue

Acrylic Ultramatt in Metallic Basalt
We hope you like the new range as much as we do!  But don't forget that we still offer a comprehensive range of Bella vinyl wrapped kitchen cupboard replacement doors and DIY Homefit Express doors that are fast tracked through our factory in 3-6 days.   All our ranges include handleless kitchen doors as well as doors with handles of your choice from our extensive range here.  
Whatever your requirements for updating your kitchen this autumn, DIY Homefit has the answer!   Why not be one of our first customers to take advantage of our new Flat Panel Slab-Front doors range?  You'll be glad you did!