Student storage solutions: sliding wardrobe doors from DIY Homefit.
So the great day is approaching when your son or daughter is off to Uni? First of all, congratulations on their success, but also we know what a huge change it will be for all of you.
They will be feeling a mixture of excitement and fear, and you may well be dreading having to face the empty nest syndrome.
But in amongst all that there is the huge issue of what to take with them. Just how much stuff can you fit into one car? But also, how much stuff will they actually need?
The fact is, most students take far too much stuff. This means that you all put extra time, money and effort into buying, packing, storing, bringing home, and getting rid of that stuff. So don't.
If you are heading off to Uni this autumn, there are many checklists around of what to take. For example, take a look at UCAS, My Baggage and Save the Student. So we won't replicate those here but encourage you to have a look and make your own list of the essentials that you need to take. Whilst making your list there are also three important things to bear in mind:
What is provided for you at Uni?
Most university accommodation is an en-suite room in a block with a shared kitchen. But you need to find out what is in that kitchen to start with: it may be that there are various cooking utensils already provided. If not, why not see if you can link up with any other new students on social media to see if you can combine forces and share anything? It always seems such a waste if there are 12 students each with complete sets of everything. Better to take less and top up as needed once you get there.
Some uni accommodation may provide other items such as bedding, so do check everything before you go to make sure you are not taking anything you don't actually need.
What are you likely to be doing in Year 2?
It may seem strange to start thinking ahead so early, but the first year at uni will fly past and, before you know it, you will be looking for accommodation for the second year. If your plan is to share accommodation with others – perhaps rent a house between a few of you – then at this point there will definitely be too much kitchen stuff etc. So why not go minimalist in the first place and buy in extra supplies if needed once you get to Uni.
Trust us: you really do not want to be in the position of having too much stuff! Chances are that at the end of your first year you may well end up having to move everything from your initial accommodation to your second year house, so try to travel light. The Save the Student article has one piece of advice that jumps out at us: "As a rough guide, only take what will fit on the back seat of a car."
What storage space is available?
You also need to have a clear idea of how much storage space you are going to have. What size will your room be and what is there in terms of wardrobe, drawers etc? How much kitchen space will you be allocated for all the stuff that you do insist on taking – plus the obligatory food parcel of course!
What you need to do is to make the most of every inch of space. Make sure that everything has a place and is always put back in that place. This will save you hours of frustration trying to find things that seem to have disappeared – and will give you more valuable time to go out and enjoy all that Uni life has to offer!
So it's a great idea to make use of some clever storage solutions to beef up your Uni room. Here are three of our favourites:
Cutlery trays
These make great desk organisers. We love the beech cutlery tray pictured below, which comes in two different widths for either single (400-600mm) or double width (from 800-1000mm) drawers. Perfect for organising all those bits and pieces such as pens, stationery items, chargers and cables, make up, earrings, and guitar picks!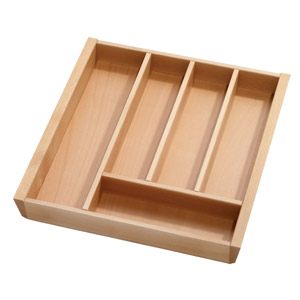 Spice racks
This may not seem an obvious choice for bedroom storage but if you take a look at the images below you will get the idea. Do check first whether you are allowed to fix items to your bathroom or wardrobe doors and, if so, these two tier, three tier or four tier spice racks could give you additional storage space for items such as  toiletries, socks, belts, scarves and all manner of other things too!


Wardrobe storage
No-one ever has enough storage space in their wardrobe so why not give yourself some extra with these storage solutions from DIY Homefit? Again, do check what you can and can't do in your room – as some of them need to be fixed to your existing wardrobe. But they are all easy to install and will work with either hinged or sliding wardrobe doors.
For left to right we have a pull down hanging rail, a telescopic shoe rack and a pull out shoe rack. Perfect for adding additional layers of storage into your student room.


And if the above ideas have begun to inspire you to perhaps have a look at how to improve your own bedroom, then why not sit down in the new peace and quiet and browse through our gallery of bedroom pictures to see how good your bedroom could look with a little bit of help from DIY Homefit.So good luck to you all as Uni begins. If you are going to Uni then we wish you well and hope that it turns out to be over and above all you hoped and expected. If you are the Mum or Dad left behind then we hope that you adjust to not having your son or daughter around as much, and begin to make some exciting plans for yourself.