Your very own Crafty Christmas!
So we wanted to write an article with some ideas about how to make gifts and decorations for Christmas.
But it seems that every clever title we came up with has already been used elsewhere – usually  by Kirstie Allsopp!   She has previously presented Homemade Christmas and Handmade Christmas – and now is presenting
Crafty Christmas, described by Channel 4 as "a festive fast-track guide to ensuring the big day goes with a bang".

So, apologies that our title isn't quite original.  But how encouraging to see that there is such an interest in the UK in making things yourself.  It's not just Kirstie: browse through the television listings and you will be struck by the number of programmes that are now dedicated to making things, renovating things and upcycling things.  Whether this is driven by a need to save money or a desire to use the planet's resources more sparingly – or perhaps a combination of both – it is a very positive trend.
So here are our Top Five ideas for your very own crafty Christmas!
Yes our first one is inspired by Kirstie Allsopp's Handmade Christmas!  We think it looks wonderful.  It is an ideal replacement for a traditional Christmas tree if you are short of space, or a perfect additional decoration otherwise.  Simply collect an assortment of driftwood and attach it with screws to a suitable backing – such as a pallet, or perhaps an old kitchen cabinet door if you have recently had replacement kitchen doors.  Then hang it on the wall and decorate with fairy lights and baubles.  Perfect!
We like this spice rack – below left – and there are various other things you could do with the basic idea.   To make this, all you need to do is repurpose an old wooden chopping board, then attach to it some small wooden cheese boxes.  Then simply attach a leather strap of some kind so that you can hang it on the wall.   Perfect for spices or indeed for any small items in pretty much any room in the house!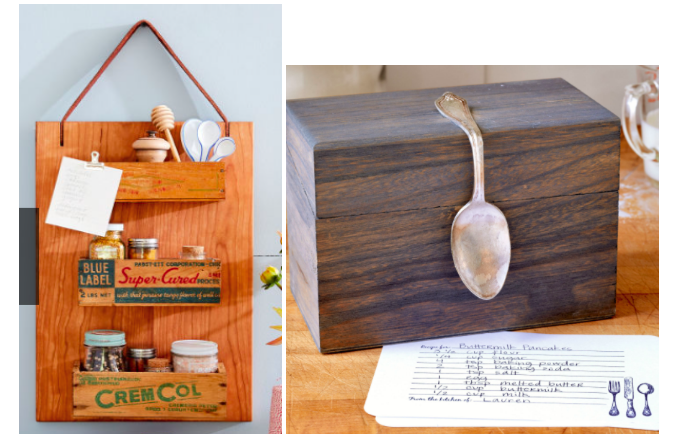 Another flexible gift idea!  The recipe box – pictured above right – could also be put to many other uses.  You will first need a wooden box: you can buy unfinished boxes but why not scour charity shops and car boot sales to find one to upcycle.  Sand and varnish the box as needed and then finish it off with some creative flair!  The example above features a bent vintage teaspoon that has been glued on, and you could also create some personalised recipe cards to go inside.  But you could create boxes with many different styles and uses.
Marbled dish
These are really pretty and have a multitude of potential uses.  Whether it's for rings, earrings, coins, soap, pot pourri or even something niche like guitar picks: you will find them invaluable!  And these dishes are something you can make easily in your kitchen whilst doing other Christmas chores.  All you need is some oven bake clay, an ovenproof dish to act as the mould, and some finishing tools such as gold liquid gilding and a small paintbrush.  For full instructions see the tutorial video from A Beautiful Mess here.
For these gorgeous coasters – from The Crafted Life – you need wood slices, dried flowers, epoxy resin and wax paper.   They are quick and easy to make – though obviously you will need a bit of lead time if you are going to pick and dry your own flowers!   You then simply need to place your wood slices on wax paper, position your dried flowers where you want them to be , then permanently seal them by pouring over the epoxy resin.  Let it sit for a while then move to a fresh sheet of wax paper to avoid resin build up (you may need to do this more than once).  Then let them cure for 24-72 hours and they're done!
So we hope that these ideas will give you some inspiration for things that you can make yourself this Christmas.  We hope that you enjoy making them and others enjoy the fruits of your labours!  We'd love to see the results so do share or tag us on Twitter or Facebook or Pinterest  to let us know!