Get Creative this Christmas!
Upcycled DIY Christmas decorations
While you're at it, why not upgrade your kitchen with replacement kitchen doors from DIY Homefit? Why? At DIY Homefit we are passionate about using resources wisely to protect the planet – as outlined in our recent article Reduce, Reuse, Recycle.
As part of this we love the concept of upcycling, where existing items are used to create new and different items. So for example, if you are upgrading your kitchen with replacement kitchen doors then perhaps you will be able to use those doors to make something else. 
But every little helps, and in this article we thought it would be good to look at some fun Christmas items that you can make from resources that you probably already have in your home. So here are five of the best upcycled Christmas items that we found online:
Wooden Christmas Tree Ornament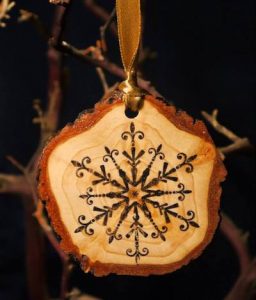 If you still have any remains of last year's Christmas tree then you can put them to good use here. Otherwise any branch from your garden would also work. 
All you then need to do is saw off a thin slice and sand it, then either burn on or paint some seasonal imagery such as the snowflake pattern shown here.
Add some ribbon to tie the ornament to the tree and you are done!
Source: http://www.craftynerds.com/
Lightbulb Christmas Tree Ornament
When a lightbulb fails, don't throw it away! Don't even recycle it. You can use it to create a lovely tree Christmas ornament such as the ones pictured below. There are no set rules here: all you have to do is paint the bulb in whatever colour glass paint that you like, then add ribbon trim to get the effect that you want. Simple but stunning!
Source: http://www.recyclart.org/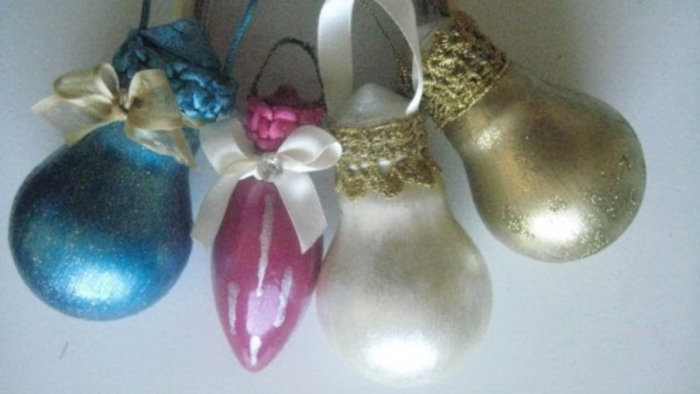 Christmas Plant Pot
This is so easy but so effective. Find a large can – for example from a catering size tin of coffee or a washed out paint tin. Then paint it in Christmas colours and decorate however you choose. 
The example shown here is based on Santa so includes a belt and a HoHoHo logo at the top, and complements the Christmas berry display perfectly.
But let your imagination run wild and create something totally unique!
Source: http://www.recyclart.org/
Branch Christmas Tree
If you don't have a tree for your ornaments, or would like to create a simple second tree then checkout this fabulous DIY branch Christmas tree. Full instructions and further images are available from Pillar Box Blue. All you need are some thin branches, cable ties, garden wire, snow craft spray and varnish.
The finished result can either be placed in a Christmas tree or umbrella stand or hung on the wall.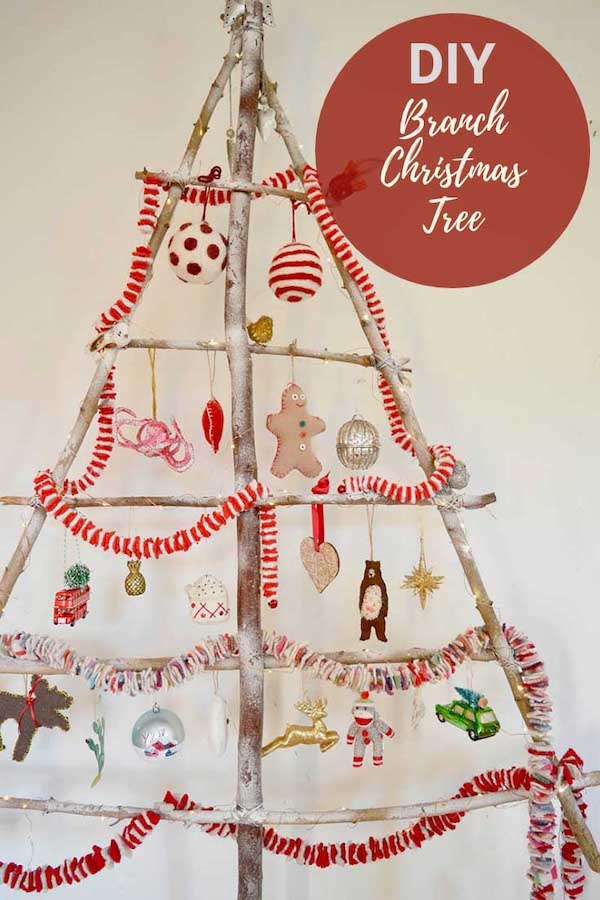 Hanging Christmas ornaments
Last but not least, another brilliant suggestion from Pillar Box Blue (instructions and more images available). Simply use Christmas cookie cutters to cut shapes from old material (they used felt from old sweaters) then stitch together, decorate as you wish, and hang together in a row – for example from a small branch as shown below.
We hope that the above ideas have stimulated your imagination as to how you can use upcycling to make your home look wonderfully festive this Christmas.
Good luck, and Happy Christmas from everyone at DIY Homefit.