Is your home ready for work?
Create more home office space with sliding wardrobe doors from DIY Homefit
"Working from home" used to be regarded with a certain amount of scepticism. It was often a euphemism for taking a day away from the office to do something you wanted to do, rather than a genuine work day. But all that has now changed!

The advance of technology over the past few years means that many jobs can be done from anywhere, including home. This has many advantages for both employers and employees, including:
Saving office space and resources – and therefore costs

Reduced commuting time and costs

Wider recruitment opportunities for both employers and employees, who no longer need to be near the office

Potentially a better work-life balance and therefore increased employee retention

Less employee time taken off for sickness or personal appointments etc
The working from home trend therefore shows no signs of abating, and it may be that as you read this you are either already working from home or about to start doing so. But if so, how can you ensure that your home is a suitable environment in which to work?
Most companies will provide not only the technical equipment that you need to work from home, but also office furniture if needed. But you need to decide carefully what furniture you do need, and where you are going to put it. If you are lucky enough to have a spare room or study that can be dedicated to office use this is ideal, but many of us are not in this position and may need to use an area of a living room or bedroom to use as an office during the day and for other purposes in the evenings.
Fortunately DIY Homefit offers a wide range of bedroom furniture and replacement wardrobe doors, some of which can easily be adapted for office use. The styles and finishes could work well either in a bedroom – without spoiling the overall look of the room – or could be incorporated into a living or dining room. Let's look at some examples:
The image below shows our vinyl wrapped Pisa replacement wardrobe doors in natural oak. This provides a seamless finish to the bedroom with a distinct – and business-like – work area that does not jar with the overall ambience of the bedroom.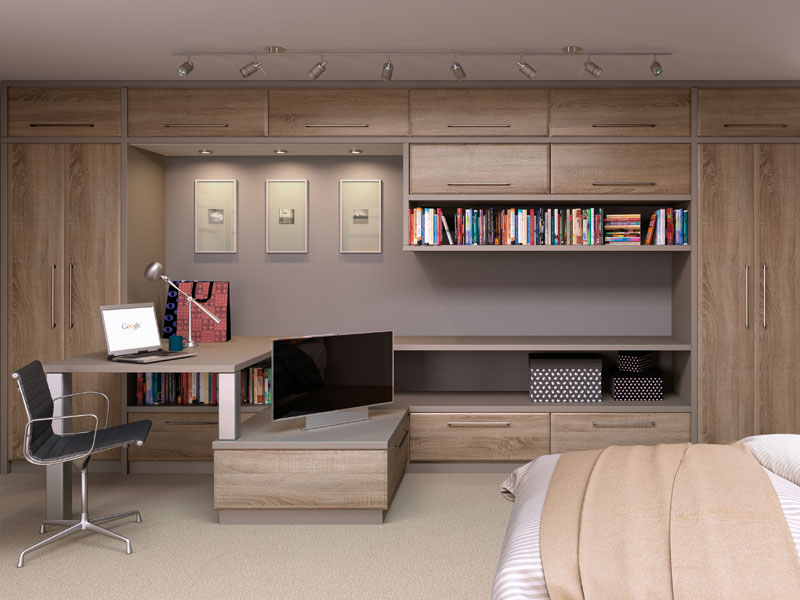 Another option could be to install sliding wardrobe doors in your bedroom. Sliding doors are very space efficient as they do not need a lot of room in front of them to open outwards. So they are ideal if you have a smaller room and need the storage space. They can also be used to break up your room into different sections: in the image shown below you could envisage a sleeping area at the far end of the bedroom but with a storage area for office work at the near end. The sliding doors shown below feature our Curved Bronze Frame with Bronze Mirrors and Champagne Avola.
But all DIY Homefit products are designed to be as flexible as you need them to be. The image below is from our Testimonials page and shows creative use of sliding wardrobe doors to partition off an area of the living room to use as an office!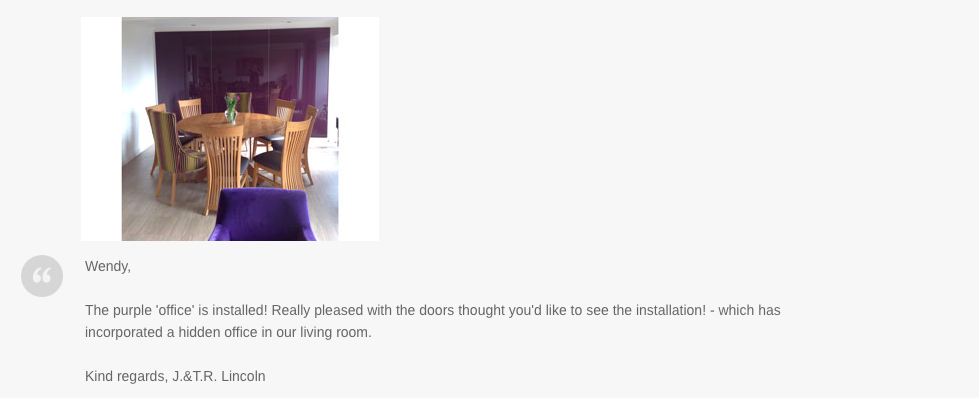 Whatever your home needs to make it ready for work, DIY Homefit has the answer!  Why not browse through our site now and plan your perfect home office!