New look kitchen for GBBO and not just kitchen doors!
Middle England is up in arms!   
GBBO (The Great British Bake Off, to the uninitiated) has been bought by Channel 4 which means that it will move from its prized slot on the BBC, who apparently can no longer afford to broadcast it.  
However, since then all the presenters have resigned and there is now talk of BBC relaunching another show that is not GBBO – but sort of is really because it could feature all the original presenters.  
Meanwhile there is more talk of Channel 4 not being able to show the original GBBO – which sort of won't be any more because it will all be different – for a year.  During which time presumably the BBC will start showing "Not the GBBO" and we'll be back to square one.  Sort of ….
Before this gets more confusing than the Vicar of Dibley's Alice explaining her doubts about I Can't Believe It's Not Butter let's move on!
The point being that baking is back in fashion.
 Not just on the fringes but firmly in the centre.  To the extent that when it was announced that the BBC would no longer be showing GBBO the nation went into cataclysmic ripples of shock almost rivalling the Brexit vote!  Baking matters.
If you are late to the baking party then what better time to jump on the baking bandwagon than autumn, with all the festivities in store.   Whether it is pumpkin pie, mince pies, Christmas cake or plum pudding that floats your boat, there is plenty of opportunity to flex your baking muscles at this time of year!
So how about treating yourself to an early Christmas present and getting your kitchen sorted?   Whether it needs just kitchen doors or a full refit, you will find exactly what you are looking for at DIY Homefit, and at prices that will still leave some spare change for the rest of your Christmas shopping!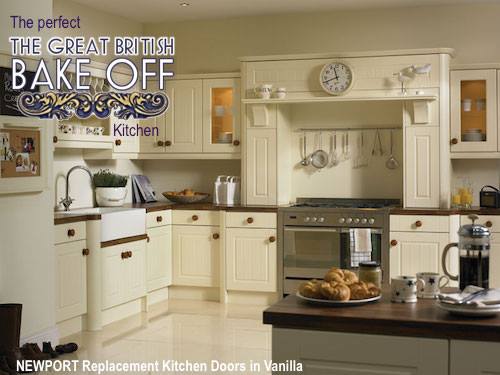 Why not take a look now through our gallery of inspiring kitchen pictures and see how good a DIY Homefit kitchen could look in your home.  A kitchen you will enjoy being in as you do all your baking!   Who knows, this time next year you could even be on the show …. whatever and wherever it turns out to be!!