Change the face of your bedroom with sliding wardrobe doors
Autumn is upon us, winter is beckoning, and our social diaries begin to fill up with all kinds of weird and wonderful seasonal events.
One event that always intrigues us is the Masked Ball.

Masked balls – or Masquerade balls as they are properly known – were first noticed in Italy during the 15th century Renaissance.  Masquerade balls were generally elaborate costumed dances held for members of the upper classes, and were particularly popular in Venice.  They became common throughout mainland Europe in the seventeenth and eighteenth centuries, and the first masquerade ball in London occurred in the eighteenth century at Haymarket Opera House.
There is still a trend today to wear masks at  masked balls and parties – many of which are held to coincide with Halloween or other autumn occasions.  The attraction is that the mask can free you up to mix and mingle without being recognised – and perhaps even behave somewhat out of character as a result.   Wearing a mask can totally change the identity and personality of the wearer.
At DIY Homefit we like to think of our replacement doors a bit like masks.  They enable you to choose a new appearance and identity for your existing cupboards or wardrobes, and change the face of your room.  Replacement doors are an excellent way to give a room a whole new lease of life.
Take sliding wardrobe doors for example.  These not only transform the appearance of your bedroom but can also be a real space saver, making you feel as if you have a completely new bedroom.   Sliding doors do not take up space in front of them when they open and close, so your bedroom will have a much more spacious and minimalistic feel.  It will begin to feel like a bedroom to enjoy spending time in rather than just a place to sleep.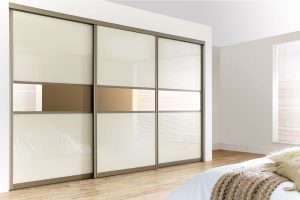 Here are ten more facts about our sliding wardrobe doors that you may not be aware of:
There are over 40 glass wardrobe door panel styles, including plain, metallic, mirrored, glitter and 3D foils

There are over 40 solid MFC panel colours to choose from, including a full colour palette of Egger and Kronospan colours or custom Eggerboard options

Our

sliding wardrobe doors

can have multiple tracks, enabling multi-door systems all to be pushed to one end of the opening, giving greater access.

Custom design possibilities are available, for example different sizes, styles and materials or special finishes, vertical dividers etc.

We construct our

sliding wardrobe doors

using the latest computer controlled machinery to accurately fit any size and any configuration.

Our

sliding wardrobe doors

are constructed using the highest quality materials to ensure that not only do our doors look top notch, but they do not rattle, flex or whip.

Our

sliding wardrobe doors

 are placed on high quality moulded wheels with integral well-proven ball bearings to ensure a lifetime of silky smooth operation.

All our

sliding wardrobe doors

incorporate an anti-jump safety mechanism as standard.

All our

sliding wardrobe doors

also use twin ball bearing rollers with soft rubber surrounds in the top tracks to ensure a smooth glide and almost silent running.

Last but not least – our

sliding wardrobe doors

are fitted with soft closers to guarantee a quiet controlled close.  This is supplemented by an integral full-length rubber cushion on the edge of all our curved frame doors.
You can take all the above into consideration and design your own sliding wardrobe doors that are perfect for your bedroom.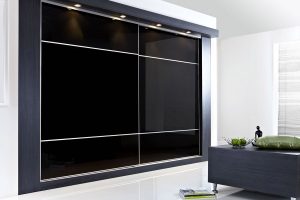 So what are you waiting for?   If you are looking for a facelift in your bedroom this autumn then apply the mask principle and get some sliding wardrobe doors to make the difference.   Have a browse through our gallery of bedroom pictures now to get further ideas and inspiration for your new bedroom this autumn!