Upcycled garden furniture with replacement kitchen doors from DIY Homefit
Summer seems to be here and it's time to get out in the garden. Our recent article Ten Tips to Get your Garden Ready for Spring hopefully helped you to help your garden recover from winter and ready for you to enjoy the warmer weather.  But what if you've done all that you can do on that front but are still dissatisfied with how your garden looks? Perhaps it just seems to be lacking a little "je ne sais quoi"?

Well, we've been doing a little scouting around to find out information on garden trends for 2018. The kind of things you might want to do just to add some interest to your garden, and enjoy being out there this summer even more.
Here are our five favourite garden trends for 2018.
Inside Out
Have you noticed how gardens are increasingly becoming extensions of our homes? Even though the British weather is entirely unpredictable, more and more homeowners are taking the opportunity to move the action outside wherever possible.
So make sure you have some cosy garden furniture rather than balancing on uncomfortable hard plastic – or splintered wooden – chairs. For example you can now purchase rattan garden furniture specifically for the outside, as well as other furniture such as hammocks and rocking chairs. But don't stop there!  There are now many ranges of outdoor rugs, throws and weather-proof cushions to bring both colour and practicality to your outdoor living spaces.
Pizza is the new BBQ
Leading on from the above concept of bringing indoor life outdoors, Those of us who have enjoyed holidays in France may be familiar with the concept of a pigeonniere – an outdoor kitchen! Yes we are all well familiar with barbecues but why not take this one step further with a wonderful outdoor pizza oven?
You could be one of the first to enjoy this continental craze for al fresco cooking beyond the barbecue! An outdoor pizza oven will be an instant hit with your friends and family. Outdoor pizza ovens come in all shapes and sizes. Not all are as spectacular as the one pictured below! But barbecue fans don't despair: even smaller models often include one or more grills so that you can grill meat, fish or vegetables as well as creating a mouthwatering array of pizzas.
Anyone for a drink?
However, you can't boast to be experiencing real outdoor living without some kind of bar area. Here you have a wide array of choices!
At one end of the spectrum you could simply purchase a portable trolley – perhaps part of the same range as your garden furniture. This would be ideal both for storing bottles and glasses, and wandering round serving drinks.
Moving right to the other end of that same spectrum, you could invest in a fitted custom-built cabinet bar in a corner of the garden. These come in all shapes and sizes and usually include convenient storage areas. Finish off the look with some tasteful fairy lights and it will feel like being on holiday all year round!
Somewhere in the middle of the spectrum exists a homemade version of a garden bar. Think how creative you could be with strategically placed old kitchen units and worktops, perhaps in the corner of the patio or shed or summerhouse. The world is your oyster!
Grow your own
As for what you eat, why not make 2018 the year you start living off your land? The growing popularity of 'Grow your own' has led to more attractive ranges of growing systems becoming available. You are now able to mix, match and stack a wide variety of different sized beds to create your own personalised growing space.
Capturing the organic sentiment behind this, you also need to check out how good organic plant care is these days. There are many new organic products on the market that enable you to care for your growing plants in a way that is more close to nature, environmentally friendly and also safe for children and pets.
The only way is up!
If you have a small garden you may be a little concerned about the storage implications of all this outdoor living. So one new trend that will be of particular interest to you is that vertical storage is in right now! Shelving units and hanging storage and display areas are readily available and so practical: enabling you to enjoy an uncluttered horizontal space in your garden whilst having everything you need to hand.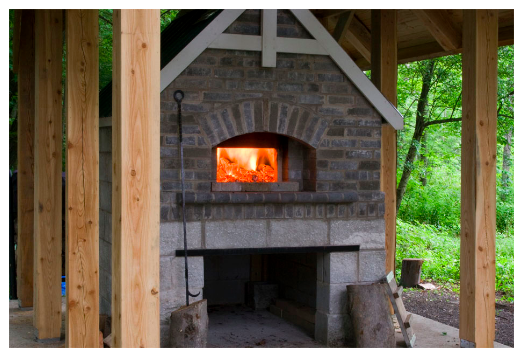 We hope that these ideas enable you to make some on trend changes in your garden that will help you enjoy it even more this summer. However, if you want to add some interest to your garden but the above ideas are either impractical for your situation or you do not currently have the funds to invest in your garden then why not get involved in a crafty bit of up cycling?
Our last article looked back on some of our favourite garden upcycling products from the last couple of years. All you need are a few basic raw materials – such as replacement kitchen doors – and a smattering of creative ideas and  you will be good to go. Who knows, perhaps you will even become a trendsetter for gardens in 2019!