Is it the right time to move?
Refresh your kitchen with replacement kitchen doors from DIY Homefit
At this time of year, many of us feel like a change. Perhaps it's a throwback to our school days: exams are taking place, heralding times of new beginnings. We can all remember that sense of nervous anticipation as one phase of our lives draws to a close with another ready to open.
Maybe now, instead of it being college or our first job to look forward to, you may be thinking about changing homes. But is it a good time to move? Whilst we can never be sure, the uncertainty of Brexit is causing something of a slowdown in the property market, making it even more difficult to make such major decisions.
So it may be that you decide that now is not the best time to put your home on the market, as it may not attract the best price. But what you can do is make some improvements to your home so that as and when the market does become more buoyant, your home will be in good saleable condition. Also it means that you can enjoy the improvements yourself for the remaining time that you have in your home.
The dilemma is that if you are thinking of moving then you don't want to spend a lot of money on your current home. But you do want to make improvements that will enhance the saleability of your home or even add something to its value.
This is where DIY Homefit can help! Our product ranges can be used creatively around your home to make simple but effective improvements that won't break the bank. Read on for some ideas and examples that could quickly and easily transform your home.
Kitchen
There is always something you can do to improve your kitchen, and at DIY Homefit we have just the thing!  How about installing replacement kitchen doors to give a new look to your kitchen? We have several ranges of fabulous kitchen doors in a wide variety of colours and designs.
Another kitchen option is to add an island for extra storage space. This can make a huge difference to the appearance and functionality of your kitchen.
If you're in a hurry, our Express range can be with you within just 3-6 days! For example the Hemlock Nordic – Handleless (J-Pull) doors as pictured below:
Bedroom
One of the quickest ways to improve your bedroom is to replace your existing wardrobe doors. Whether you choose hinged or sliding wardrobe doors, you can totally transform your bedroom quickly and easily. With custom built wardrobes from DIY Homefit you can also make the most of every inch of space, giving your bedroom a new lease of life. This example shows Palermo replacement doors in white: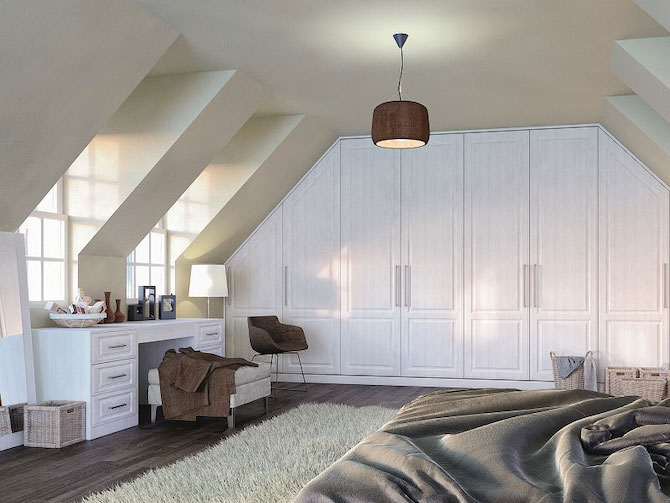 Around the home
One thing you may never have considered is the flexibility of products such as replacement kitchen doors. They can be used in various ways around the home to great effect. But don't take our word for it – listen to some of our satisfied customers!
A hidden office

"The purple 'office' is installed! Really pleased with the doors thought you'd like to see the installation! – which has incorporated a hidden office in our living room."

 

Bathroom cabinets

"Thank you very much for all your help with my order, I thought you might like to see a photo of our finished bathroom, the doors have no handles now as we liked the idea of the push to open hinges.

Tall bathroom cupboards (either side of shower)

"Installation went perfectly – photos attached :-). Door measurements were spot-on. Soft closes lovely too. High gloss white was the best choice and the glass edging an inspirational idea for the bathroom."

Utility room cupboards
"This was the look I was going for, and am very pleased with its realisation. Customized size large cupboard, all doors and worktop, supplied by DIY Homefit."

 

Teenage bedroom / study
"Here are the photos from our last order. They were taken before the bed was put back in place which makes it look more like an office. Our son is extremely happy with it and has all the storage he needs. I would recommend DIY Homefit to anyone wanting custom doors. "
So if you are looking to improve rather than move, let DIY Homefit help you to do just that. As the above examples show, with our flexible products you can give a facelift to any room in your home. Why not take a browse through our kitchen and bedroom pictures, replacement kitchen doors,  hinged and sliding wardrobe doors to plan what changes you are going to make in your home this year!