Transform your bedroom with sliding wardrobe doors from DIY Homefit…
Are you happy with your bedroom? Many of us long for a beautiful bedroom. We may look enviously at pictures of gorgeous bedrooms and imagine how much better our lives would be if only we could have a bedroom like that.
But we then bring ourselves back to reality: not only can we not afford a luxury bedroom makeover but also our bedroom is so small that it's impossible to do anything creative with it. Or is it?
Fortunately DIY Homefit can help on both those fronts! Firstly we have some wonderful ranges of fitted and sliding wardrobe doors that are excellent value for money. Then we also have lots of examples of how you can design and decorate a small bedroom to make it the bedroom of your dreams! Here are five ways to help you do this:
This has always got to be the first thing to do. Every bedroom looks better once you have got rid of all the stuff that you don't need or want. You can then concentrate on making space for the things that you want to keep and it will make your bedroom transformation so much easier. For help and advice on decluttering have a look at our recent article Declutter Your Home this Spring.
The next thing to do is take a good look at the layout of your bedroom and make sure that you are using every inch of space. If your bedroom is an awkward shape then you probably have odd bits of space that are not being used effectively, for example empty corners or gaps next to the side of the wardrobe. Your bedroom can actually look more spacious if you make use of these gaps rather than leave them empty, so do consider custom fitted wardrobes like the example below.

Also make sure that you are maximising the storage capacity inside your wardrobes. See our recent article How To Give Your Partner more Wardrobe Space for ideas about storage solutions that can help.
If you have a small bedroom and hinged wardrobe doors they can really take up a lot of your precious space. You will need to leave room in front of the doors so that they can be opened out. Then once they are open they are difficult to squeeze past and just seem to fill the whole room.
Whilst hinged doors can look fabulous in a larger bedroom, sliding wardrobe doors are often a much better option for the smaller bedroom. Not only do they not need additional space in front of them but they can bring a streamlined look to your bedroom that actually makes it look bigger.
Another essential feature for the smaller bedroom is the use of mirrors. Mirrors reflect light and make everything look larger and lighter. Careful positioning of mirrors can make a huge difference to a bedroom. So make sure that you have plenty of mirrors in your room, and you can also get mirrored sliding wardrobe doors which could make your bedroom look twice as large as it actually is!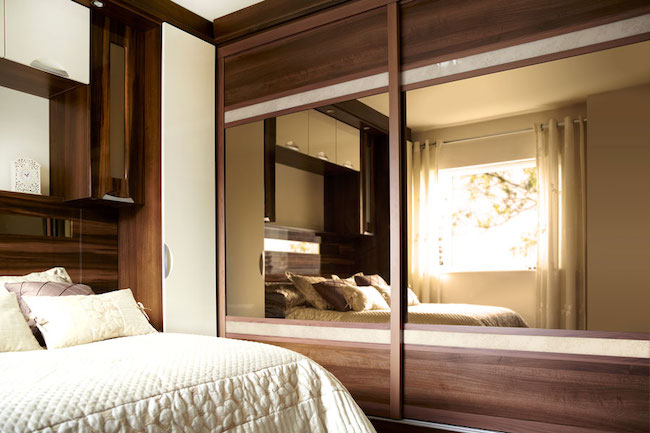 Last but by no means least is the choice of colours for your room. Lighter colours will make your room look bigger. So for your bedroom furniture, wall colours, carpet or flooring, and bedding and accessories choose coordinating lighter colours and this will make your room look much bigger and brighter.
We hope that we have given you some ideas and inspiration about how to make your small bedroom look bigger. Size really does not matter: your bedroom can still look beautiful even if it is small. Why not take a browse through our range of bedroom pictures to decide just what you do want to do with your bedroom, and make 2019 the year when you finally get the bedroom you deserve.