Is your house like a hotel?!
Stylish bedrooms with sliding wardrobe doors from DIY Homefit…
"You treat this house like a hotel" is the all-too familiar cry of any parent with teenage children. And indeed, it can sometimes feel like that, with expectations of laundry being done, food of choice being provided, additional guests accommodated at the drop of a hat, and of course the essential super speed WiFi!
But at this time of year many of us begin to wish that our house actually was like a hotel. If we stay somewhere nice during the summer holidays our home can look small, dingy and tired when we come back home again.
This is particularly noticeable in the bedroom. Given that our bedroom is the room in which we probably spend more time than any other room in the house, it is surprising that it tends to come at the bottom of our list of priorities when it comes to updating and decorating. Perhaps it's because it's the room that is rarely seen by others, so in that sense we feel that it doesn't really matter?
But it does matter. If you love your bedroom – if it's a stylish and welcoming place – then you will be able to relax and unwind and get the sleep that you need. But if you don't like your surroundings it can niggle away at you without realising, and can interfere with the quality of your sleep.
So this summer, why not plan to give yourself the gift of a brand new bedroom? 
Coming back to our hotel theme, we can learn a lot about bedroom design from some of the trends that hotels are using for their bedrooms. Here are a few that we have noticed, and think you will like.
Bedroom with living area
If you are on holiday in a hotel then your room becomes your primary living area. You have no choice – it's the only personal space that you have during your time there. So as well as the bed and storage areas, and the ensuite bathroom, there is also a seating area with perhaps also a table. 
We like this trend and the bedroom pictured below – featuring Integra replacement doors in Oakgrain Grey – captures it perfectly. It's lovely to be able to have somewhere in your bedroom to sit and relax: your own personal space.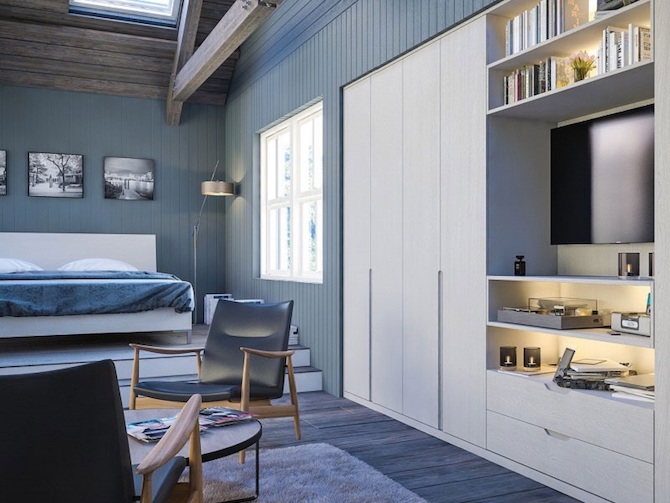 High Tech bedrooms
OK so we all know that it's best to keep technology out of the bedroom as it can interfere with sleep patterns. But for many of us technology is such a major part of our life that it seems only natural to have everything at hand in the room where we most want to relax. So whether you like watching movies and box sets, browsing on your computer, gaming or using a virtual assistant such as Alexa to keep you entertained – you want those facilities in your bedroom.
So perhaps a good compromise is to incorporate your technology  of choice into your bedroom in the most stylish way possible. Ideally you also want to be able to shut some of it away so that it does not then intrude into sleeping time.
That's why we love the  bedroom pictured below, which features Venice replacement wardrobe doors in high gloss Snow Larch. There is plenty of room for all the technology, and it can all be stored away beautifully in the glossy white cupboards. But there's still a huge bed in which to snuggle down in luxury at the end of a long day's entertainment!

Simplified Storage
With the growing emphasis on bedrooms becoming more of a living area rather than just a place to sleep, many people are wanting more unobtrusive bedroom storage. Traditional wardrobes can look too much like wardrobes, and sometimes give a rather clunky look to your bedroom. 
Many people are now wanting a more streamlined look to their bedroom, and the two examples we've already shown carry that look off perfectly. There is plenty of storage space, but all cleverly disguised by sleek wardrobe doors.
Our final example shows how sliding wardrobe doors can be used really effectively to achieve the minimalist look. The doors pictured below feature a curved bronze frame with bronze mirrors and champagne panels.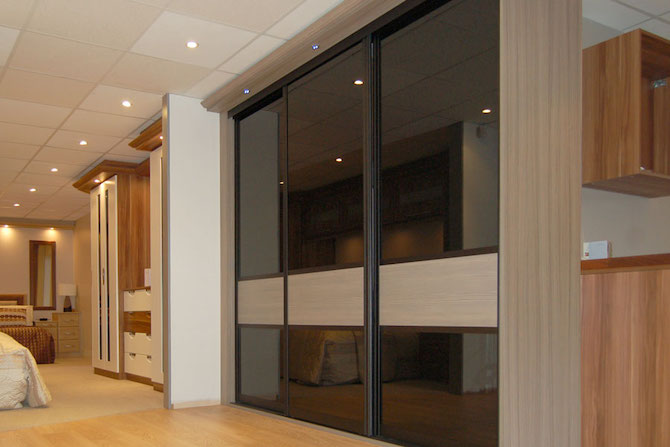 Installing sliding wardrobe doors can release a lot of space into your bedroom because you do not need space in front of them for them to open into. So they really can make your room appear much larger.
The good news is that at DIY Homefit you can design your own sliding wardrobe doors!  You choose the materials and colours, and layout of the panels. Why not take a look at our easy 3-Step Sliding Door Designer to find out more?
We hope that you have a wonderful time this summer. If you do come back from holiday wishing that your home was more like a hotel then hopefully the above ideas and examples have given you some inspiration to start planning your bedroom makeover this year.