Christmas is a time of fitting.
Whether it's the age-old question of how does Santa get down the chimney, the eternal surprise of Cinderella's shoe fitting in the Christmas pantomime, or the annual battle to get the turkey in the oven and the door shut …. Christmas is full of issues to do with fitting!

Those of us who have ever redesigned a room will also be painfully aware of the importance of correct fitting.  No matter how accurately we think we have measured, there are endless tales of furniture not fitting into a room properly, whether it's kitchen units, bathroom items or bedroom furniture.  Many people are living in homes where a dream room has actually become a bit of a nightmare and there seems to be no way of fixing it – short of summoning up a fairy godmother or genie in a lamp!
But fear not, DIY Homefit is here to help!  All of our bedroom and kitchen furniture comes in a wide range of sizes, and everything can also be custom made to fit your exact measurements.  Ordering custom made furniture from DIY Homefit could not be easier.  All you need to do is select the standard size slightly larger than the dimensions you want,  then enter your custom dimension(s)in the custom sizes boxes on our menus.
We have many happy customers that have ordered custom sized items from us, and many rooms that have been transformed as a result.  For example, custom fitted wardrobes enable you to make the  most of every inch of space in your room.  Why have a corner of space literally gathering dust and not serving any useful purpose?   The image below shows two sets of custom fitted wardrobes installed by a customer in Kent.  Rather than having both sloping sides wasting space, the wardrobes were custom built to put the space to good use.

The customer was delighted with the outcome, and also with the support received from DIY Homefit throughout the process:  "I am most grateful for your kind and patient advice and guidance from receiving my initial outline drawings, advice on materials and accessories to the staged ordering of the components. All the staff we spoke with at DIY Homefit were always very helpful and courteous and we felt supported all through the process."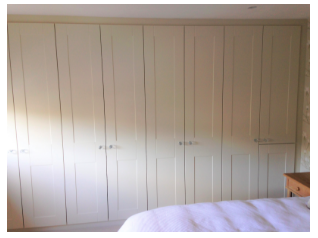 We are also always happy to suggest ways in which you can adapt items from us to fit into awkward spaces, as the image on the right shows,  In the words of the customer from Surrey:  "One of the great things about DIY Homefit is the choice and flexibility so that you end up with a truly customised design. The split wardrobe door was the perfect solution for the tight space next to the bedside table, and I'm so glad that you suggested moving the horizontal panel slightly further up the door because it looks perfect where it is and anything else would have looked wrong! "
So we hope that these ideas will give you some ideas and inspiration for how you could use custom sized furniture from DIY Homefit to fit perfectly in your home and use every inch of available space.  Food for thought this Christmas!