Make a splash in your kitchen in 2019!
Co-ordinated diy kitchen units and splashbacks from DIY Homefit…
Making a splash is another way of saying grabbing the attention. And a key way to do that in your kitchen in 2019 is to install a simply eye-catching, attention-grabbing splashback!
For the uninitiated, a splashback is a panel behind either your cooker or sink that is designed to protect your walls from stains during either the cooking or washing process. But the key word here is "designed". Gone are the days when splashbacks were a purely functional item: today splashbacks are an integral part of kitchen design.
The main material from which  DIY Homefit splashbacks are made is laminated formica. This is a tough material that is able to withstand the daily wear and tear of a typical kitchen. Laminates are heat resistant and moisture free, and easy to keep clean as they do not attract dust. They are also usually much cheaper than other alternative splashback materials such as acrylic, glass, metal or tiling.
At DIY Homefit we supply laminate splashbacks in a wide range of designs and colours. Some are standalone items, others are available as part of our ranges of worktops and DIY kitchen units. We can supply splashbacks in a variety of shapes and sizes, including custom made.
Why not take a browse through our three main ranges:
As can be seen from the images below, splashbacks can totally transform the look and feel of your kitchen: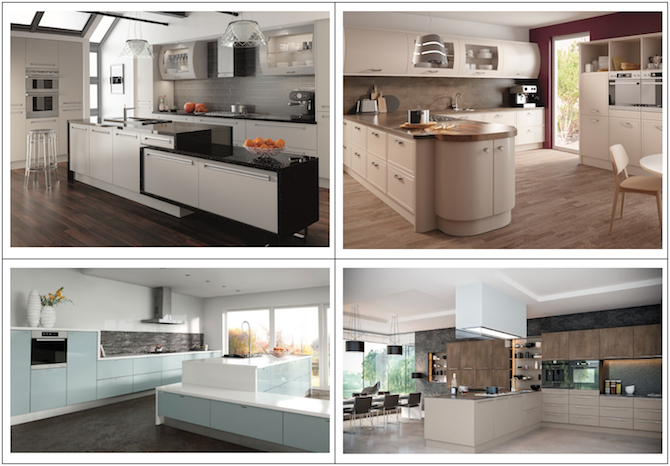 As you can see, some splashbacks run along the complete length of a work surface, whereas others are just a single panel fitted behind the hob or sink, and yet and others are of the upstand design, where the edge of the worktop itself continues upwards to serve as a low level splashback.
So when choosing a splashback for your kitchen it is important to consider whether:
you want a single panel on the wall or a long splashback covering the length of the kitchen surface;

you want a separate splashback attached to the wall or an upstand design;

you prefer a high-tech glossy look or a more natural-looking design such as a wood effect;

you want a neutral colour that will blend in or a contrasting bolder colour that will stand out.
So if you want to make a splash in your kitchen in 2019 then start by browsing through our ranges now and seeing how effectively a splashback can transform the look of your kitchen.