Ready .. Steady .. Pancakes!!
Improve your kitchen in 2020 with DIY kitchen units from DIY Homefit
So February is here, which means only one thing. Pancake Day!
Pancake Day – properly known as Shrove Tuesday – happens on Tuesday 25th February this year. It is the last day before Lent, the period of 40 days leading up to Easter…
Pancakes were originally created as a way of using up all the rich foods in the home – such as eggs and sugar – before the traditional Christian fast during Lent.
Nowadays, many of us indulge in pancakes even if we don't plan to give anything up for Lent. So Pancake Day also means chaos in most kitchens around the UK, particularly if there are children involved!
Pancake Day traditions
We all develop our own family traditions for Pancake Day, but there are many different traditions across the country. One of the oldest of these takes place in Olney, Buckinghamshire. Since 1445 there has been a pancake race to the church on Shrove Tuesday, and this tradition is still going strong. Pancake races also happen  in many other towns, including Yarmouth on the Isle of Wight, and Winster in Derbyshire.
Toddington in Bedfordshire has a custom of children climbing its Conger Hill to lie on the ground and listen for the local witch frying her pancakes as the clock strikes midday. Meanwhile many other places have quirky Shrove Tuesday sporting events, from a 2 day multi-location football game in Ashbourne in Derbyshire, to Hurling the Silver Ball at St Columb Major in Cornwall.
Favourite pancake toppings
It seems there are also many different traditions in how we top our pancakes. Two of the more traditional ways are lemon and sugar or either maple or golden syrup. However, research by Uber Eats last year revealed the following ten most popular pancake toppings in the UK:
Strawberries and Whipped Cream

Banana

Nutella

Belgian Chocolate

Oreo

Maple Syrup

Served with Vanilla Ice Cream

Icing Sugar

Mixed Berry 

Caramel
So perhaps if you are making pancakes with the family on February 25th, you might want to try some of the above toppings for a change?
Is your kitchen ready?
Pancake Day is one of those occasions when many of us realise that we need to make some changes in our kitchens. When the whole family is in there trying to have fun together we can soon start running out of space. 
Perhaps 2020 is the time to seriously consider a kitchen refurbishment? Today's kitchens are increasingly being designed as a multi-purpose living, dining and entertaining area as well as a room for cooking and preparation. So if your circumstances allow, you may decide to knock through from your kitchen to another downstairs area – be it living room, dining room or hallway – to create a wonderful new open plan space.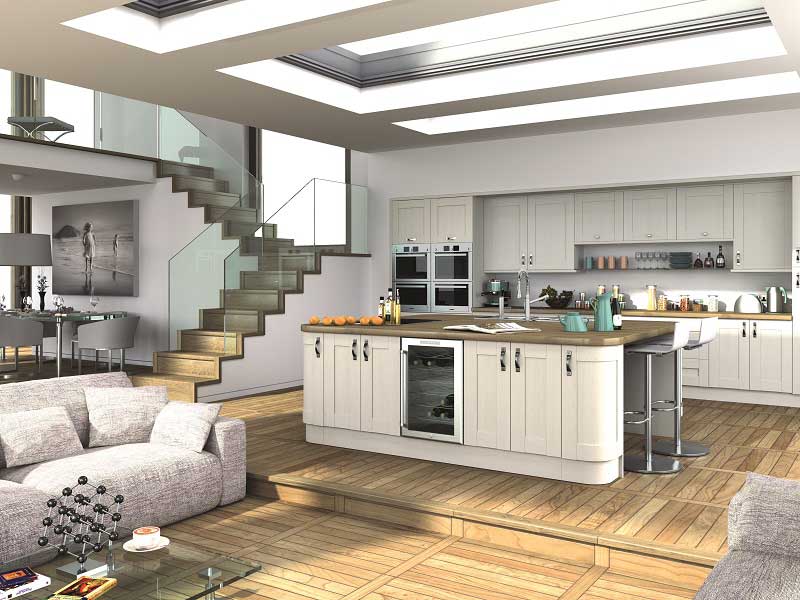 If enlarging your kitchen is not an option, there is still a lot you can do to make it more multi-functional. For example, you may have space for a kitchen island which would provide both additional storage and seating capacity. Or you may consider squeezing in a comfy chair or small sofa, to make things a little more cosy and give family and friends somewhere to sit while food preparation is going on.
You could also incorporate more storage space by installing one or more additional kitchen units into any unused space in the kitchen. Take a look at DIY Homefit's range of DIY kitchen units to see how just a little more storage space could really benefit your kitchen. It would also give you the opportunity to rethink what goes where in your kitchen and improve the workflow between storage, preparation, cooking and serving areas.
We hope that you and your family have a wonderful time on Pancake Day, and enjoy whatever combinations of pancakes you create between you. And if it does get you thinking about making changes in your kitchen this year, then have a browse through DIY Homefit's stunning gallery of kitchen pictures for ideas and inspiration to get you started.
Check back here soon for more home and lifestyle tips from DIY Homefit.