Transform your kitchen with diy kitchen units from DIY Homefit
2020 is well under way. Many of us started the year determined to make various improvements to our homes. So now is the time to get on with it!
If you are considering changing your kitchen this year, we've been scouting around for some of the latest ideas and trends to help you. In Las Vegas, the annual North American Kitchen & Bath Industry (KBIS) trade has just taken place, with new designs from over 600 leading brands.
So we've had a look at some of the latest kitchen products and come up with five top trends that you may want to include in your kitchen upgrade this year.
We noticed a common theme in many of the display kitchens, that there is an item which is used as the main feature of the kitchen, then other elements of the kitchen are focussed around that. In some kitchens this was an Aga or feature hob or large double oven. Others had a spectacular high tech fridge. Still others featured coloured sinks, or sinks with integrated worktops (one even had a mini dishwasher!). 
So a good place to start when designing your kitchen is to decide which item is really important to you, and work back from there.
Kitchen islands show no sign of decreasing in popularity. Not only do they give you additional work surfaces and storage space, but they can also provide seating and become a natural gathering place in the centre of your kitchen. The image below shows a contemporary kitchen island from our Lincoln range in Canadian Maple.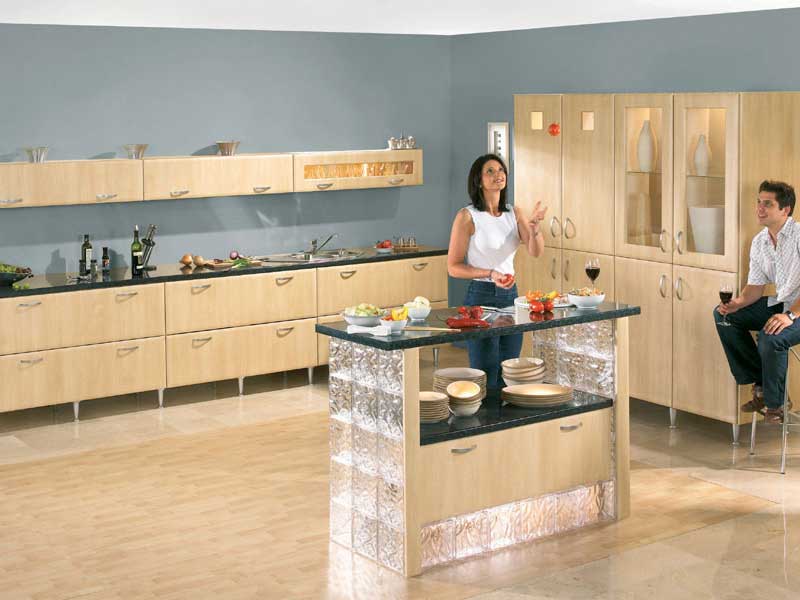 So if you have space for an island, it could be a definite bonus to your kitchen. Think carefully about the size and shape that will work best, and your main priorities. If you plan your island carefully it can almost function as a mini kitchen in itself.
The sleek, chic minimalist kitchen look is still very popular. Designing your kitchen with handleless doors – such as DIY Homefit's Handleless J-Pull Replacement Kitchen Doors in Gloss White as pictured below – can give your kitchen a more spacious appearance.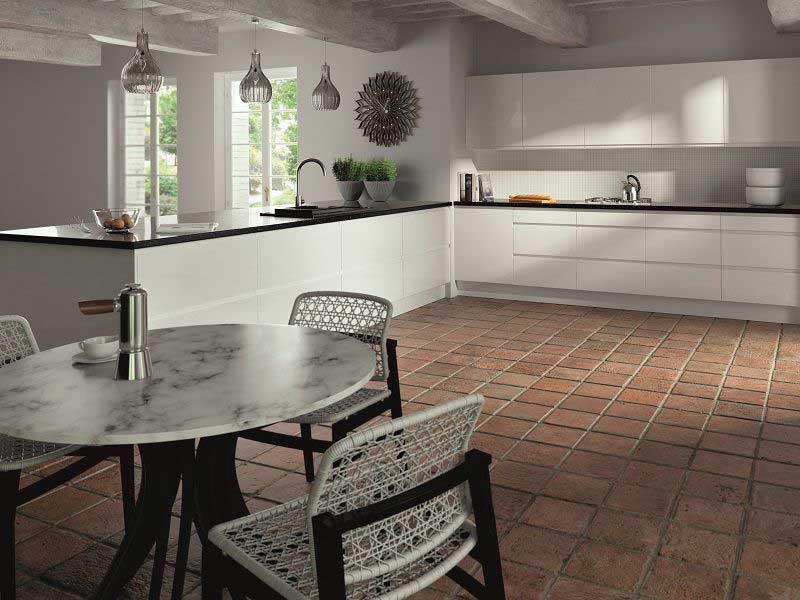 To find out more about the benefits of handleless doors, take a look at our article To Handle or Not To Handle.
When designing your new kitchen, make sure you fully explore the range of worktops available. Textured worktops are very popular at the moment, and at DIY Homefit we supply an impressive range for you to choose from. 
The example shown below is from our Radiance range in Blue Storm. This range features an asymmetrical design with a hint of gloss, to add warmth and depth to your kitchen. It is available as a worktop, breakfast bar, splashback and upstand.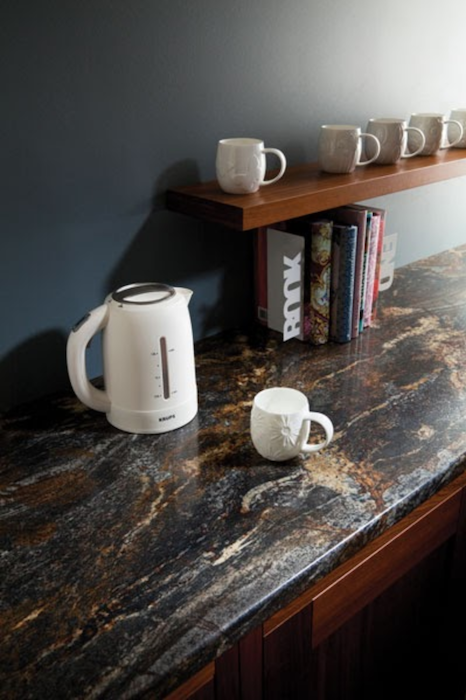 For more information about our worktop ranges take a look at our article The Wonderful World of Worktops
Innovative storage solutions
Kitchen storage is a very hot topic! It seems like you can never have enough, and KBIS featured all kinds of innovative storage solutions. This is another of DIY Homefit's specialities. Our range of DIY kitchen units features many different storage combinations, including:
Carousel cupboards

Organiser cupboards

Pull out units

Spice racks

Wine racks

Pan drawers

Cutlery drawers

Pull out waste bins
Why not take a look for yourself at DIY Homefit's full kitchen storage range? Whatever the best combination of storage solutions for your new kitchen, you are bound to find it here!
We hope that the above ideas help you to get started on planning your new kitchen for 2020. Whatever DIY kitchen units and storage solutions you need, to transform it into your dream kitchen, look no further than DIY Homefit!