What is the best colour for your bedroom?
Bring colour into your bedroom with sliding wardrobe doors from DIY Homefit
When a friend gets a new car are you one of the people that everyone laughs at because the first thing you ask is what colour it is? Well congratulations! Because colour can affect every aspect of our lives and our choice of colour is important. Especially when it's time to redecorate a room in your home.

There a lots of traditions surrounding colour that we are hardly aware of. Some of these are deeply ingrained and others are fashions and trends. There would have been a time, for example, when a black bedroom or bathroom would have been unthinkable, but is now often seen as edgy or chic. So colour is a bit of a minefield, and it's little wonder that most housing developers play safe and use a variant of magnolia in every new room!
So when you do redecorate, spend your time choosing a colour that you like and that is right for your room.
Popular colours
A couple of years ago, the hotel chain Travelodge carried out research to find colours that are popular for bedrooms in the UK, and also help us to get a good night's sleep. Here are the top five:
Blue

bedrooms are excellent for helping you get a good night's sleep. Blue is a calming colour that helps to reduce blood pressure and heart rate. 58% of people surveyed who have a blue bedroom regularly wake up feeling happy.

Yellow

is also a good colour for bedrooms. It stimulates the nervous system and aid relaxation. It also helps to create a warm and cosy atmosphere in which to sleep peacefully.

Green

creates a restful, calming environment in your bedroom. It induces relaxation and helps you to wake up feeling upbeat and positive.

Silver

can add a touch of luxury to a bedroom. Its moonlight glows also helps to create a soothing and calming environment which is perfect for a good night's sleep.

Orange

may seem an unusual choice but adds warmth to a room and can help you to relax: both of which are important for getting a good night's sleep.
The Travelodge study also found that purple, brown and grey are less popular and not as relaxing for a good night's sleep. But it also acknowledged that everyone is different and has their own taste.  Frances Whitley, Travelodge In-house Interior Designer said: "Room colour does influence your mood and set the tone for your living environment. Therefore it's important to choose a bedroom décor that will help you relax and induce sleep".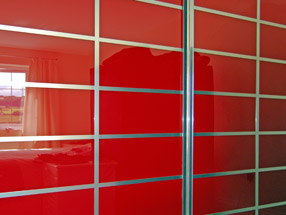 The right colour for your room
So how do you choose the best colour for your bedroom? Or in fact any room in your house.
The first thing to do is look at the space you have available. Think about the look and feel of your room now, and what you want to change or keep. The colour you use is important in helping you achieve the look and feel you have in mind. Take into consideration the amount of natural light in the room, as this can influence how a particular colour will look.
As a general rule, light or neutral colors can give the illusion of more space, whereas deep, rich colours will create a more cosy feel. Also, if there are particular aspects of the room that you want to feature then contrasting colours can do this.
Ensure you get a good colour balance between walls and ceilings, as this can also affect how large or small the room feels. Contrasts in colour tone or intensity can visually separate the walls and ceiling, making a large room feel more intimate and a small space more airy.
Finally, it is also a good idea to bear in mind the colours of other nearby rooms, especially if they are visible from the room you are painting. They don't have to be the same colour, but you don't want them to clash horribly. Also if they are of coordinated colours then this will create an illusion of openness and space.
Accessorise!
As well as the colour of your paint, plan the furniture and accessories in your room carefully. This is where DIY Homefit can help!
If you are redecorating a bedroom then we have a wonderful range of sliding wardrobe doors that will coordinate with any colour scheme you choose. They come in a variety of designs and finishes, including coloured glass, mirrors, and more traditional board. There is bound to be a design that is exactly right for the bedroom you have in mind. You can then create a coordinated look between colours, shades, patterns and features in your room.
The other advantage of sliding wardrobe doors is that they save space as they do not need a large gap in front of them for the door to open outwards. So they are ideal of any size or shape of bedroom.
We hope that these ideas have helped you plan your perfect bedroom. Do have a look at our range of sliding wardrobe doors: you can also use our sliding door designer to ensure the perfect fit for you. Whatever your choice of colour, DIY Homefit has the perfect bedroom products for you!