Declutter your home this spring
Declutter your bedroom with custom fitted wardrobes from DIY Homefit!
Spring is in the air, and many of us begin to feel the need to get our house in order.

One key trend at the moment is decluttering. The new Netflix series Tidying Up with Marie Kondo is inspiring many people to declutter their homes. In fact, many charity shops are reporting an increase in donations due to what is being termed the "Marie Kondo effect" .
For those who have not come across the name before, Marie Kondo is a Japanese author who became more widely known back in 2014 with her best-selling book The Life-Changing Magic of Tidying Up. The book describes what has now become called the KonMari methods of tidying up, which can be summarised in 6 rules:
Commit yourself to tidying up.

Imagine your ideal lifestyle.

Finish discarding first.

Tidy by category, not by location.

Follow the right order.

Ask yourself if it sparks joy.
Fans of decluttering claim that not only does it free up space in your home but is also beneficial to mental health. Having a clean and organised home brings a sense of calm and peace. Even the KonMari process of decluttering is calm and mindful. Items that are either not needed or do not spark joy are touched and thanked and bid a fond farewell. They are, then sent on their way – hopefully towards a better life and a more appreciative owner.
But what about those items that you do want to keep?
This is where DIY Homefit can help!
One key concept of the KonMari method is items of clothing being stored upright in drawers in the KonMari "signature fold" . This helps to reduce creasing.
So when reorganising your home the KonMari way, you need to ensure that you have plenty of drawer space for storing clothes this way.
Fortunately DIY Homefit has a wide range of drawers to choose from, many of which can be combined with our custom built wardrobes. So you can make sure that you are using every inch of available storage space!
We also offer a range of bedroom storage solutions for within wardrobes so that you can organise all your clothes in a way that is easy to see and to access.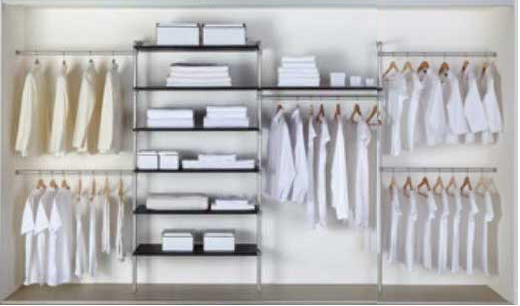 We're sure that Marie Kondo would approve!
So if you are ready to do some serious decluttering and need some innovative storage solutions to keep the rest of your stuff tidy, look no further than DIY Homefit! We are here to help you spark joy in your home!
Image source: Marie Kondo – Netflix