Make this the year you finally learn to cook!
Create a kitchen you can cook in with diy kitchen units from DIY Homefit!
It seems that as a nation we are getting increasingly obsessed with food. Almost every newspaper and magazine features recipes or the latest diet or articles about obesity or healthy eating. And just a quick flick through the TV channels will reveal a multitude of cookery programmes.
Food is now big business. There are many chefs who have now joined the ranks of celebrities, and as well as their own cookery books and TV shows are extending their influence into other areas of our lives.
All these trends can make us feel very inadequate. Many of us have a touch of imposter syndrome when it comes to cooking. We feel that we can get by perfectly fine from day to day, and can manage to entertain a few friends or family on an informal basis. But the thought of producing anything more complex – "proper" cooking – is terrifying.
And yet a little part of us would actually really like to improve our cooking skills. Imagine the sense of achievement and confidence that you would feel if you produced a meal that you would never have thought possible.
The thing is that all of us are more than capable of becoming more ambitious in the kitchen; if we want to. It's not everyone's cup of tea – so to speak! But if you yearn to be more confident in the kitchen then why not quietly make this the year that you do just that?
There is so much information out there to help you. We've already mentioned all the cookery books and TV series. Youtube is another excellent source of advice. Or if you really want to get serious then there are lots of cookery courses around, including evening classes and intensive cookery courses run by various food establishments, hotels etc. You could even combine a cookery course with a lovely holiday abroad – just use Google to get an idea of the wide variety of opportunities available.
However you decide to improve your cooking skills, you also need to make sure that your kitchen is well-designed for serious cooking. When you are cooking it is really important to have everything organised so that it flows easily.
A key element of kitchen design is the "work triangle". This can be thought of as an imaginary straight line drawn from the sink, to the hob, to the fridge and back to the sink. Traditionally kitchens have been set up so that there is easy unobstructed access between each point of the triangle. The idea being that this will increase efficiency as it keeps all the major work stations near the person cooking, without being cramped.
The image below shows a kitchen designed using our Knebworth range of kitchen doors in Avola Cream. This lovely spacious design allows a good amount of unobstructed space between the sink, hob and fridge – with plenty of preparation areas in between.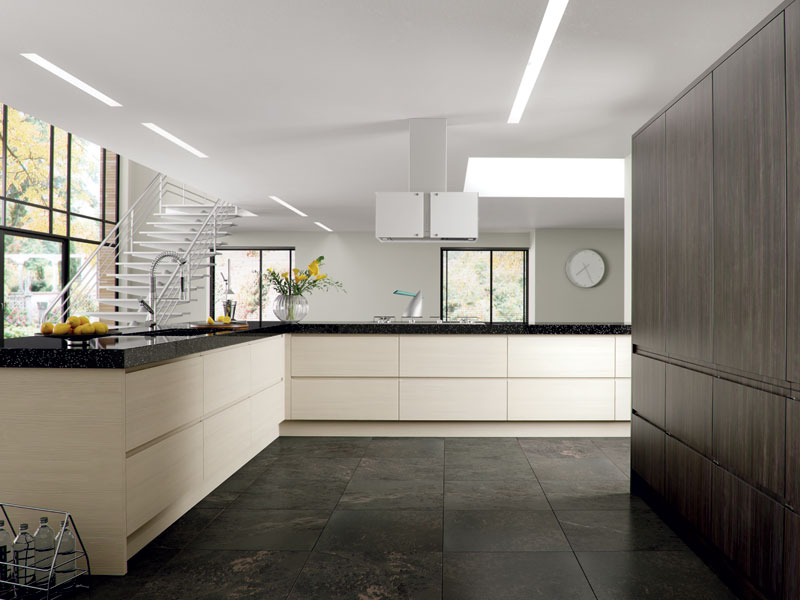 However, there now needs to be a bit more flexibility over this concept as many kitchens are becoming more multi functional. Many families use the kitchen as a living area as well as one in which to prepare and cook food. Also many families now have more than one person cooking at any given time, so additional preparation areas will be needed.
The image below shows a contemporary family kitchen, with room for living as well as for multiple chefs. It features Venice kitchen doors in Opengrain White.
If you prefer a more traditional style then the kitchen pictured below – of our Shaker kitchen doors in Ivory – may fit the bill.
The point is that you need a kitchen that works for you and your family. When cooking you need to have everything within easy reach. A helpful analogy is that a professional kitchen is organised so that food can easily pass along the line from storage to preparation to cooking to serving in the most seamless way possible.
So in your home kitchen try to store anything that is not needed for cooking outside of the cooking triangle, but near to where it'll be used. For example glasses can be stored in a cabinet near the fridge, and serving dishes near your table.
Then make sure that the items needed for preparation and cooking are stored within reach of where they will be needed. For example knives and cutting boards near your preparation area and pots and pans within easy reach of your cooker.
At this stage you may realise that you need a few more kitchen cabinets or drawers to store everything where it is meant to be. This is where DIY Homefit can help! We can enable you to redesign your kitchen at an affordable price by using our fabulous ranges of diy kitchen units.
Why not take a browse through our range of kitchen cabinets and drawers to get an idea of what is available. Then start planning the kitchen that will help you to make 2019 the year you finally learn to cook!