How new wardrobe doors can transform your bedroom
Maximise bedroom storage space with sliding wardrobe doors from DIY Homefit
The spring sunshine is here, and the changing of the season gives many of us the urge to "feather our nest" and make some changes to our home.
Perhaps your bedroom needs a bit of a facelift? But on the other hand you don't want to spend too much money or time sorting things out. At DIY Homefit we have the perfect solution!
Our ranges of hinged and sliding wardrobe doors can transform your bedroom quickly and for a fraction of the cost of a full bedroom refurbishment. The type of doors you choose will depend on your particular requirements and priorities, but here are some common problems and solutions to get you started:
My bedroom is very small and cramped and looks cluttered even when it is tidy
You would be amazed at how sliding wardrobe doors could transform the look and feel of your bedroom! Sliding doors don't need any space in front of them to open up, so you immediately gain more space in front of your wardrobe. Also if you choose mirrored sliding wardrobe doors – as pictured below – this will have the effect of making your room look more spacious.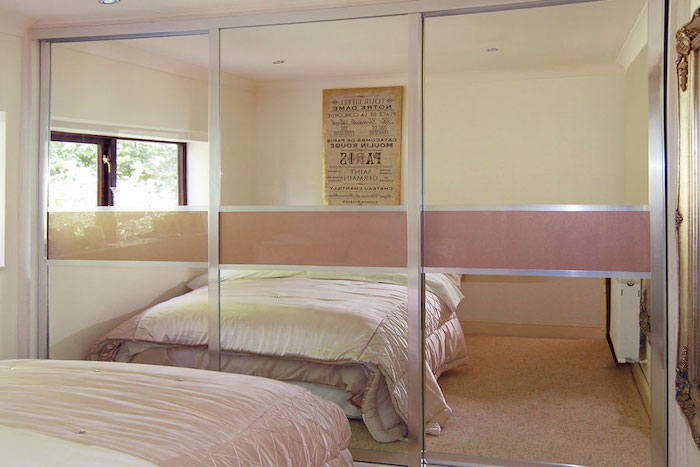 See our full range of sliding wardrobe doors here.
My bedroom is dark and dingy: how can I brighten it up?
Again, mirrored sliding wardrobe doors could be your answer. In the image below you can see how the mirror reflects light from the window around the rest of the room, making it much lighter and brighter.
See our full range of sliding wardrobe doors here.
I want hinged doors so I can open up my wardrobe and see everything inside! But do you supply additional storage solutions for inside a wardrobe?
Yes we do! We have a range of storage solutions so that you can maximise every inch of space within your wardrobe. Why not take a look at our recent article How to give your partner more wardrobe space to find solutions that will keep everybody happy.
I would love more wardrobe space but my bedroom is in the eaves so has lots of odd-shaped nooks and crannies. Can you help?
You are not alone! We specialise in irregular-shaped bedrooms and can offer custom made sizes on our wardrobes and wardrobe doors. This enables you to make the most of every inch of space and hide away all your clutter behind stylish wardrobe doors. We love the example below – featuring Palermo Replacement Bedroom Doors in Opengrain White – that shows how great this can look.
Why not also take a look at our Testimonials page to see how others have managed to overcome this issue by using custom-built furniture and doors  to maximum effect.
My bedroom just looks really old-fashioned. I'd like something that's a bit more on-trend. I don't know if I want sliding wardrobe doors or hinged doors – do you do contemporary styles in both these types of doors?
We supply several ranges of wardrobe doors in all kinds of styles. The first thing you need to do is decide the kind of look that you want to create, and the colour scheme that you prefer. Why not take a look at our recent article Spring Forward into a New Bedroom to get some ideas about current bedroom design trends?
Below we show two examples of contemporary styled doors – one hinged and one sliding. The choice is yours!

Even better – you are also able to design your own sliding wardrobe doors – read more about this here.
We hope that the above information and examples have inspired you and helped you to realise that it is possible to make your bedroom look and feel very different just by changing the wardrobe doors. So why not make the most of all the Bank Holiday weekends coming up and start planning how to transform your bedroom with new wardrobe doors from DIY Homefit?