Spring forward into a new bedroom!
Transform your bedroom with sliding wardrobe doors from DIY Homefit!
Spring has sprung. It's that time of year when the clocks go forward and Easter is on its way – along with the first long Bank Holiday weekend of the year. The sun is starting to shine and everything feels fresh and new.
Except when you look at your bedroom maybe it doesn't feel fresh and new at all? This time of year can make us realise how tired parts of our home are looking. As nature springs into life all around us, perhaps it's time to bring new life into our bedroom as well?
There are some interesting bedroom decor trends around in 2019. Let's take a quick look at five of them:
Classic and clean
The combination of wooden furniture and pale walls never fails to work. The image below shows our Oxford replacement bedroom doors in Pippy Oak. These wardrobe doors are from our Bella Vinyl Wrapped range. We also supply a comprehensive range of matching bedroom furniture in the Bella range including beds, headboards, footboards, mirrors, stools and even a toilet seat!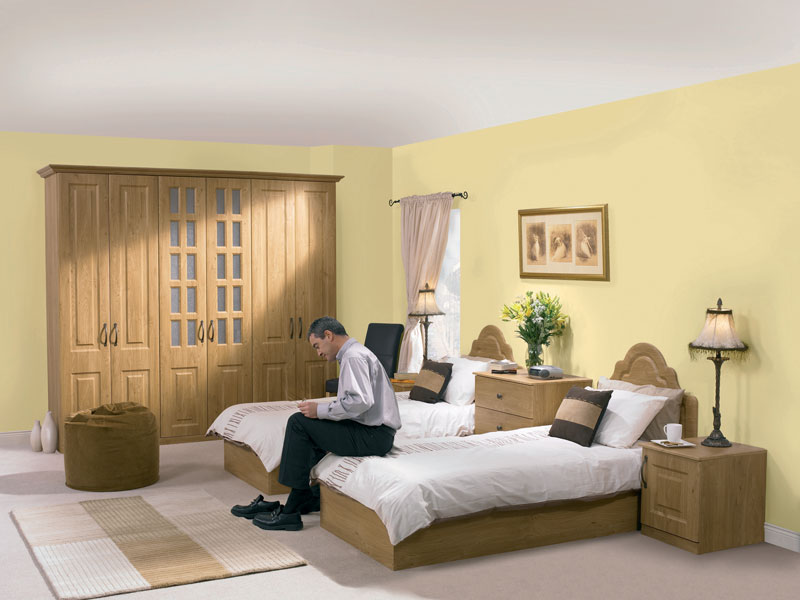 One splash of colour
Another trend is to keep most of the bedroom in very neutral colours, then have one feature splash of colour as the focus of the room. Whether this is a feature wall, a rug, bedspread or piece of artwork the effect can be stunning. The image below shows Flat Slab replacement bedroom doors in Acrylic Light Grey with bright blue highlighting on part of one wall to give it that essential splash of colour.
Industrial Bedroom Design
Industrial design is very on trend this year and the bedroom is no exception. Any combination of tiled walls, metallic furniture and heavy brown tones can encapsulate this trend. The image below shows our Flat Slab replacement bedroom doors in Graphite combined with a feature brick wall that harnesses the industrial trend very effectively.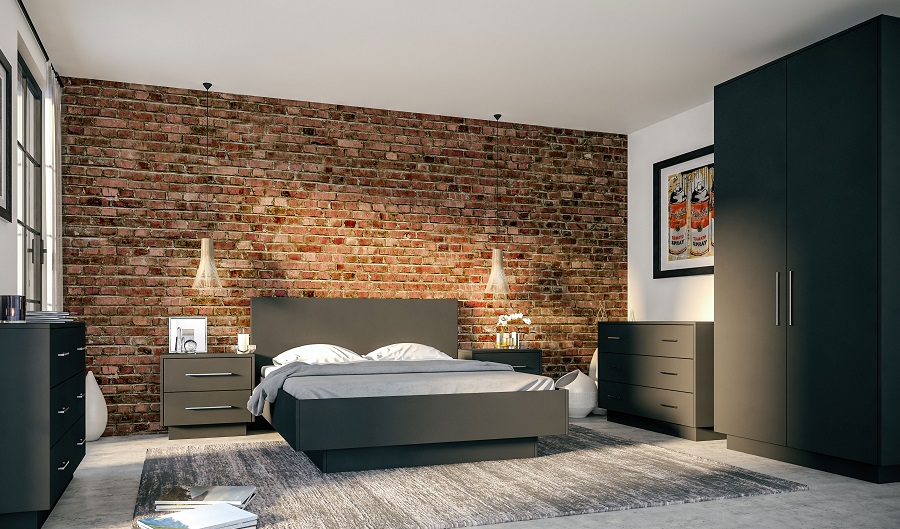 Minimalistic but not quite
Minimalistic design is always popular and that shows no signs of changing. However, a growing trend is to accent the minimalist look with one or two showpiece items such as a dramatic design or ornate light fitting. Below we show two examples of this.
On the left we have our Bella Vinyl Wrapped replacement bedroom doors in Toronta Natural Oak & Matt Stone with a wonderful light fitting that takes centre stage. On the right is an example of Flat Slab replacement bedroom doors in Acrylic Black with a stunning feature wall that dominates the rest of the room. Two completely different looks but using the same concept of minimalistic but not quite!


Surrealism
Last but by no means least is a growing trend for the surreal. So aim for a combination of bold patterns and materials, creative tiling, bright colours and statement items to create something quite magical. A really good place to start is to choose some sliding wardrobe doors in a bright colour. The image below shows a curved black frame with Aubergine & Fuchsia glass but there are many other different colour combinations available.
We also have a sliding door designer so that you can create your own Made-to-Measure sliding wardrobe doors.
So how about considering a bedroom refurbishment this spring?   Whichever of the above trends is your preference – or any other ideas you have – DIY Homefit is here to help.
So why not browse through our gallery of bedroom pictures to see some of the options available? Remember that as well as bedroom wardrobes, cupboards and chests we supply matching bedroom furniture for some of our ranges. So it's time to spring forward and bring new life into your bedroom with DIY Homefit.