Design the perfect sliding wardrobe doors ONLINE!
Did you like to draw houses when you were little?
Many of us who did would have come up with something like the image below.   The square shape, windows, red door and chimney all look familiar! How lovely it would be now to be able to design and build our own house! 
 That is why television programmes such as Grand Designs are so popular: they tap into everyone's dream of making a house of their own.
But even if you are not in the position of being able to design and build a complete home, at least you are in control of the interior design of your home.  Whatever your space constraints, your style – and your budget of course – it is possible to make your home the way you want it.  Each room can reflect your personal taste and style, and become a reflection of part of your personality.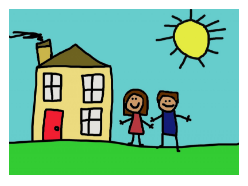 Some people like to design their own furniture.  Many of us are talented at upcycling old items into new, but if this is not your best skill, if you would like to be able to design something but not actually build it then what are the options?
One way that DIY Homefit can help with this is to give you the ability to design your own sliding wardrobe doors.   You design them, we build them.   So if you are about to remodel your bedroom then read on!
For any bedroom sliding wardrobe doors are wonderful.   But particularly if you have a smaller room that you've not been able to do very much with due to the space constraints, sliding wardrobe doors could be the answer.   DIY Homefit has a stunning range of made to measure sliding wardrobe doors in a wide variety of designs.   Moreover, our doors are are made from the highest quality components which means not only a perfect fit but no flexing or rattling that you often find with inferior products.  Yet they are all still at a very competitive price!
Our sliding wardrobe doors are available in 10 different frame designs and colours and then a choice of finishes including 40 different glass panels,  flat and bevelled mirrors, 30 colours and finishes of MFC Board and several special finishes such as glitters and 3D foils.   We are also able to custom make doors using any Egger or Kronospan boards or Lacobel glass.  The choice is yours!
As for the design of the sliding doors, you can do this yourself using our online designer!   It is a simple three step process.  Start by selecting the size of the doors, then the panel configuration you want for each door then the finish design and colour.  The three images below show examples of each of these three stages but to appreciate the fully range of flexibility that you have why not check it out for yourself?


So why not indulge your creativity this autumn and design yourself some new wardrobe doors using our online designer?  By using the designer you can experiment to your heart's content with different configurations and designs, and find the perfect combination to transform your bedroom into the grand design you want it to become!