Seven Spectacular Storage Solutions for Autumn
Autumn is always a time of change…
Between the start of the new school year in September and the start of the calendar new year in January there are all kinds of other changes to contend with.   Nights grow darker, the weather gets colder, and even the clocks go back an hour in silent protest.  Seasonal festivities abound, and there is a general feeling throughout autumn of hunkering down ready for winter.

But how ready is your home for the long dark nights of autumn and winter?  In summer our homes tend to feel bigger: we have doors and windows open and gardens become an extension of the home for all kinds of activities.  We use our gardens for rest and play, for eating and entertaining, and doing all manner of jobs and chores.  But in autumn we need to bring all this activity inside and prepare ourselves for winter.
One thing that really helps us to feel better at this time of year – and to enjoy all the autumn festivities more – is to make sure that the insides of our homes are cosy and welcoming.  And one way to do this is to clear the clutter!
Our first blog contained DIY Homefit's 7 Steps to Decluttering and is well worth another read.  In parallel with that, today we bring you our Seven Storage Solutions that will help you get organised for autumn!   Some of these upcycle day to day household items in creative ways to make more storage space for you.
If you have some dead space in a corner of your kitchen – you know those areas that just get filled with dust from goodness knows where (plus all kinds of other ghastly looking stuff!) – then put it to good use.   Either find a tall shelf with narrow depth in a junk shop, or make one yourself.  All you then need to do is add wheels to the bottom and you have pull out shelving that will give you heaps more storage space!
Image via classyclutter.net
Bathrooms never look stylish if they are covered in clutter, so how about adding a shower curtain rail along the wall side of the bath from which you can then hang items and baskets to store all your bits and pieces?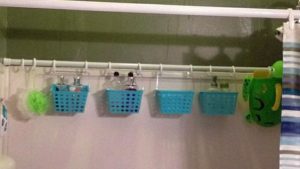 Image via lifehacker.com
For wall-mounted storage that can be used either to display plants or to store jewellery or other small items why not upcycle some small drawers?  Paint them the colour of your choice and replace the knobs with something eye-catching, then use them to store whatever you need to.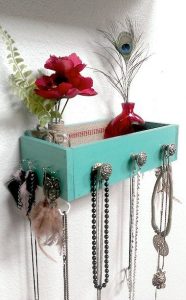 Image via how-do-it.com
One can never have too many shoes: the problem is knowing where to put them all.  They also need to be somewhere where they can be stored undamaged and can easily be seen and found when in a hurry!  DIY Homefit has the ideal solution for this first world dilemma:  our pull-out shoe rack comes with either 3 or 5 removable racks and has full extension soft close runners for easy movement.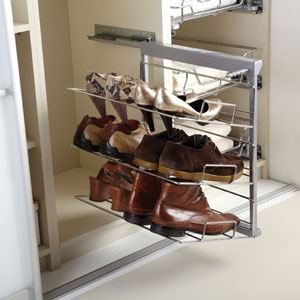 Many of us these days work from home, and unfortunately this can mean that the study or office – or dining room table – from where you work can become very messy and inaccessible to the rest of the family.  In effect you are losing part of your home, a part which may well be needed this autumn.  One e easy way to store all the bits and pieces of daily work life is simply to use a wine rack with either large glass jars or plastic tumblers to get all your small items out of everyone else's way!
Image via mycasestudies.blogspot.ca
And it soon piles up!  Instead of having heaps of envelopes cluttering up your surfaces why not find an old shutter, paint it a colour of your choice, then mount it near the door to squirrel all the mail away in a rather stylish fashion?  Simples!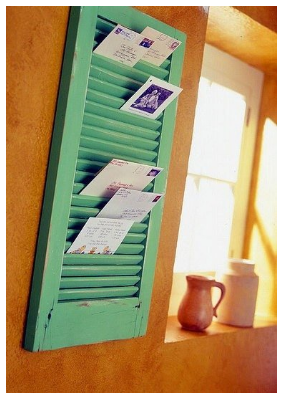 Source: jacquelinezinn.com
One brilliant way to hide away all your bedroom clutter is to get the biggest wardrobe that you can into the space you have available.  This is where DIY Homefit can help!   We can create custom fitted wardrobes for you that will fit into pretty much any size or shape space.   Take a look through our bedroom pictures and customer testimonials to get an idea of what is possible!   Custom fitted wardrobes are a perfect way of making the most of every inch of space for storage, rather than having dead space being wasted.
So as autumn tightens its grip on us, why not celebrate it and cosy up your home ready for the season with some of the above storage solutions from DIY Homefit.