Sisters are doing it for themselves!
At DIY Homefit we were fascinated to hear about a talk by historian Professor Maggie Andrews at The Hay Festival.   According to Andrews –  author of The Acceptable Face of Feminism: 100 Years of the Women's Institute – modern women are turning to domesticity "as an antidote to the drudgery of the workplace and the horrors of society.
As well as an alternative to worklife, Andrews also suggests that the popularity of television shows such as The Great British Bake Off,  and also the growing trend for men to be involved in household chores has "made domestic life 'sexy' again and increased its status in society".
Her comments have naturally stirred up much debate in various quarters, with The Fawcett Society pointing out  that many women do not have the luxury of choosing between work and home, they have to do both.    But there certainly does seem to be a resurgence of interest in domestic life and particularly in cooking and baking.  Which means that your kitchen has to be up to the job!  
As anyone who starts to spend more time in their kitchen will know, you soon start to notice things that are not quite right!   Whether it is dodgy plumbing, a lack of storage space, bad positioning of different items so that there is no logical flow between them, or simply the fact that things look old and tired it soon begins to get to you!
This is where DIY Homefit can help!   If you are in the position to do a complete kitchen makeover, then take a look through our stunning gallery of kitchen pictures to get some ideas of how our products could totally transform your kitchen.     As you will see from the example images below, kitchens are rather different from what they used to be!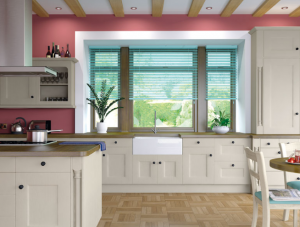 If you are not in a position to do a full kitchen makeover then a very good alternative to go for is kitchen cupboard replacement.    For example the image on the right shows Cambridge replacement doors in Oakgrain cream.    At DIY Homefit we have a wide range of doors in  Acrylic Ultragloss and Vinyl Wrapped finishes:  take a look at them here to get the full picture.
So if you are beginning to spend more time in your kitchen and want to make a bit of a transformation then DIY Homefit is here to help sisters do it for themselves!